Testimonials
5
5
MetaReview
5
AboutMyClinic
This is my experience I would like to share on behalf of my father Mr. G. Vaz who underwent a knee replacement surgery. My father had difficulty walking for the last couple of years and walked with a limp. He had earlier consulted a few doctors regarding his knee and although he was advised a knee replacement surgery he kept delaying the operation as he had a number of doubts in his mind and was not sure of what the final outcome would have been. He was also advised by various people with similar problems not to go in for the operation as they did not have any pleasant experiences after the surgery and many told him of various difficulties they had to face. He then got to know about Dr. Shreedhar Archik – who advised him that he needs the do the surgery as his left knee joint was in a bad condition. Dr. Archik not only explained the entire operation procedure, the type of artificial knee that would be used but also discussed the recovery period after the surgery. We had a number of questions and doubts which Dr. Archik patiently answered. Most of all he gave my dad the confidence that he would be able to walk again in a few days after the operation with a little assistance. My Dad was operated on 5th May 07 and now 6 weeks later he is walking without any external assistance and climbing stairs as well. My Dad now feels he should have undergone the surgery earlier. Thank you Dr. S Archik for your patience in clearing all our doubts and answering all the questions we had and most importantly for successfully performing the surgery. Mr. Vaz is available on the following number 022 26666174 if you need to ask him any queries
Nov 15, 2018
Dr. Archik was incredibly efficient and was able to pinpoint my issue within minutes. His experience clearly showed through the simple, yet very clear way that he explained my problem.
Nov 15, 2018
Great experience with DrArchik. He is a patient listener and does not advise unnecessary medication .
Nov 15, 2018
Prashant Chirde
, Patient
It's very nice experience and feeling blessed as my treatment with super specialist.
Sep 8, 2018
He is a very amiable person and gives reasonable time to understand the problem. His diagnosis is very precise, I am happy with the treatment. The doctor is an expert in his field and his behaviour is also very good and polite. Would recommend as one of the best orthopaedics
Sep 8, 2018
Excellent. He is very patient and gives proper advise. There are two levels checks basically first checked by a physio and then drsridhar himself.
Sep 8, 2018
(As told to her son, Mrs. Gagre is uneducated and speaks only Marathi) My name is Anandibai Gagre. I am 76 years old lady from a tiny village in Konkan. I could barely walk when my son took me to see this doctor. He was talking about changing my knee cap. I was dead against any surgery. I have never visited a hospital before in my life! My knee pain was killing me. I could not go out of my own house. I felt depressed and always prayed to God that my life should end. My son could hardly afford this kind of money but when he started borrowing the money I felt I should rethink. I finally got both my knee replacements done at one go. Here I am sitting cross legged and I can now pray every day! I climb stirs and go for walks every day. I now feel that my decision was the right one. If you want to talk to me or my son Bhau please call on 9820103911.
Jul 30, 2018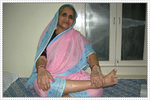 I am Mr. Galgali from Airoli. I recently got both my knees replaced by Dr. Shreedhar Archik. I must admit that I am one of the guys who get scared even if the word hospital is uttered! I am 68 years old and the knee pain was disturbing my daily routine. I tried all drugs and physiotherapy but I used to get temporary relief. Then I heard about Dr. Shreedhar Archik. I met him at his clinic in Shivaji Park. He gave me 45 minutes of his time explaining the whole surgery. I realized that once I really got to know what I was getting into I felt a bit better. Then came the question of money as I am a retired reserve bank employee. I then realized that I would save 75,000 rupees if I got both my knees operated at one stage! Here I was scared of one surgery and Dr. Archik was telling me to get both done at the same time! I felt more scared. He then gave me telephone numbers of patients who had similar surgeries done. Speaking to them increased my confidence. I finally went ahead and got both my knees replaced at the same time at the Lilavati hospital. Now I walk with no pain, I can climb stairs and here I am sitting cross legged! My life has turned a new corner. I do not take any medicines. My advice to all knee sufferers is "get the knee replacement done" it will change your life. Call me if you want to ask any questions on 27690195.
Jul 30, 2018
AboutMyClinic